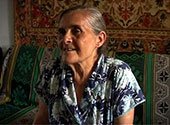 Elizaveta Bershadskaia was born in Chernyatka in 1927. Her father was a barber and was also born in Chernyatka. Her mother was born in Bershad and worked as a seamstress. She had two brothers and a sister. She moved to Bershad at the age of 13, and spent much of the war in the Bershad ghetto. We interviewed her on July 18, 2002 in Bershad.
---
Other Interviews:
Jewish Professions
Getting Ready For Sabbath
How to Get Food
Liberation
Our House
Mama's Mamaliga
Bershad, Ukraine
Mameliga is lauded far and wide to this day for its versatility, affordability, and heartiness. In the Podolian town of Bershad (in Ukraine, just northeast of Moldova), AHEYM recorded the recipe for mameliga that Elizaveta Bershad'skaya learned from her mother. Because mameliga is parve - that is, neither meat nor dairy - it can be enjoyed with milk and cheese or with meat, making it an easy base for any meal. You'll notice that Dov-Ber and Elizaveta also discuss the texture of the dish - for the mameliga to come out "as it should be", it must be firm enough to slice with a cotton string.