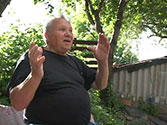 David Geller was born in 1929 in Zhmerynka. During the war he evacuated to Central Asia, first to Tashkent and then to Shymkent. After the war, he returned to Zhmerynka, but soon moved to Kiev, where he worked in a factory. In 1950 he was drafted into the army, served for three years, and then settled in Bratslav, where his wife was from.
---
Other Interviews:
"In short, I am a Jew"
Evacuation of the Communists
Tashkent-Samarkand-Panjakent
Bratslav Matchmaking
"we need to have a wedding!"
Dovid's Gefilte Fish
Bratslav, Ukraine
Gehakte fish is made with a chopping knife. Gefilte fish is put through a meat-mincer.