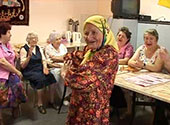 Bella Chirkova 's father was a rabbi and her grandfather was a cantor. During the war, she served at the front as a nurse. After the war she moved to Vinnytsya to study at a pedagogical institute, and then worked as a teacher. We met her at the Vinnytsya Jewish women's choir, where she was dancing and singing at ninety years of age.
---
Other Interviews:
Remedy for the Evil Eye
The Sabbath Candles
What It Means to Be a Jew
Vinnytsya, Ukraine
Bella Chirkova's piety was a personal one, derived not from the rabbinical learning of her father, the rabbi of Krosne, nor from her grandfather the cantor, but rather from her own personal faith in God, and from the lessons she had learned from the American and Israeli emissaries sent to Vinnytsya in recent decades. She believed that suffering and endurance were part of what made her Jewish. This moral essence—that a Jew must be faithful and endure whatever hardships God has in store for him or her—was a staple of popular Jewish belief in the region.