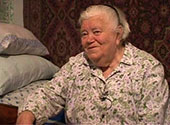 Maria Yakuta was born in 1921 in Teplyk. She grew up with six siblings. Her parents were also born in Teplyk, and her father worked as a hatmaker. She attended a Yiddish school for seven years. Her parents and three siblings were killed in Teplyk during the war.
---
Other Interviews:
"Der Shtern"
Peeking into the Men's Section
The Binding of Isaac
"and a goat on a chain"
Eating Sour Mash - the Great Hunger
Sanctification of the Moon
The Matzo Bag
Teplyk, Ukraine
Passover was the most commonly observed Jewish holiday in the interwar Soviet Union. But few of those we interviewed recalled the meaning of the seder--the ritual meal that forms the centerpiece of the Passover ritual--or the specific details of the Passover Haggadah. Instead, they remember the rituals--the eating of matzo, cleaning the house of bread products, and the peculiarities of the seder ritual. In this clip Maria Yakuta remembers the ornate bag in which the matzo was stored during the seder meal, and how her father reclined during the meal, in accordance with tradition.