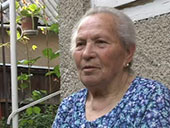 Dora Fiksler 's parents were born in Romania and owned animals, when she grew up. Her father was a construction worker. She grew up with six siblings and helped out with the animals in her free time. She attended a Hungarian school for eight years. During the war, she was initially deported to Auschwitz and then further to the Mauthausen concentration camp. There she worked at a factory until her liberation. After the war, she worked as shop assistant in a grocery store in Solotvyno.
---
Other Interviews:
A Neolog Family
Yiddish and Hungarian
After The War
Solotvyno, Ukraine
A vibrant and diverse Jewish life characterized Dora Fiksler's hometown of Nyzhnye Solotvyno before the war, when it was under Czechoslovakian sovereignty. But after the war, the region fell under Soviet rule and was subject to Soviet anti-religious campaigns. Only about ten percent of the prewar Jewish population returned to the town. The Soviets confiscated the synagogues, claiming that there were too few Jews left to warrant their use, and the few Jews who remained in the town gathered in private homes for prayer services.