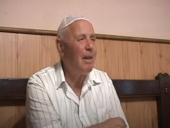 Vilk Hodinger grew up with five siblings, of whom three perished in Auschwitz. He attended cheder in Vynohradiv from the ages 6 to 15, as well as Czech and Hungarian schools. His father, who worked as laborer, was born in Ilnytsya and his mother came from Pryslip. During World War II, he survived the selection at Auschwitz, where he was deported from the Vynohradiv ghetto in May 1944. He was liberated from the Furstenfeldbruck forced labor camp, where he fixed airplanes for several months. Between 1949 and 1953, he served in the Soviet military. He worked odd jobs before his draft and then sold ice-cream for thirty years.
---
Other Interviews:
A Few Pengos
Vynohradiv Ghetto
"Hitler ate up our youth"
Berehove, Ukraine
Vilk Hodinger talks about his military service in this clip. Hodiger was drafted into the Red Army in 1949, just five years after his liberation from a Nazi forced labor camp near Dachau, Germany. As was the case for many survivors, particularly those who returned to the Soviet Union, the end of the war did not translate directly into a peaceful reintegration into civilian life. Hodiger was drafted into an aerodrome construction regiment as a sapper, and was sent first to Belarus and then to the Soviet Far East. "I traveled across all of Russia," he recalls. In the army with him were a few other Jews who, like him, had only just been liberated from the camps a few years earlier.