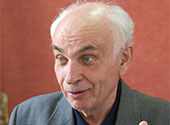 Alexander Cherner Alexander Cherner was born in 1935 in Balta. He comes from a family of klezmer musicians, and has written some 500 klezmer tunes. He lived in Balta until 1952 and then moved to Kharkiv, where he worked as turner and locksmith at a factory. He moved to Odessa in 1961.
Playing Fiddle with my Grandfather
Odesa, Ukraine
In this clip, Alexander Cherner remembers fondly how he performed with his grandfather at a Jewish wedding in Balta around 1948.

Cherner comes from a long line of klezmer musicians, as was common for klezmer musicians. His grandfather led a klezmer group and taught students how to play the piano, clarinet and trumpet before the war. The musical profession was widespread in the shtetl before World War II. Jewish musicians often struggled and had to take on additional jobs to make ends meet. Cherner recalls that most musicians were Jews, but that there were also non-Jews who could play well.