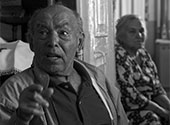 Alexei Futiran was born in Tomashpol in 1925, the son of a coachman. Both his parents were also born in Tomashpol. He was one of six children; two of his brothers died fighting in the Second World War. He attended a Yiddish school for four years, and then completed his education at a Ukrainian language school. At the age of fifteen he began working as a carpenter. During the war he was evacuated to the east, and then drafted into the army in 1943, serving in the Far East until 1950. After the war, he worked as a leatherworker, making hats. He married his first wife in 1950. After she passed away, he remarried a non-Jewish woman. He has two sons, one in Moscow and one in Israel.
a Poor Family
Tomashpil
Alexei Futiran explains in this clip, how he grew up in a poor family. When he was fifteen years old, Alexei began to work as a carpenter apprentice in prewar Tomashpil. Alexei's family particularly suffered during the Great Hunger (Holodomor) in the early 1930s, when his father was let go from his job as coachman.

Accounts by World War II survivors from Eastern Europe significantly revise the romantic image of the the shtetl. In order to make ends meet, many people had to work on Sabbath, as Alexei addresses in the following clip. Moreover, many men had to take on extra jobs. Many women also worked, in addition to raising children and taking care of the household.