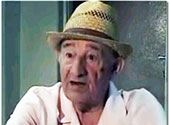 Efim Skobilitskii was born in 1919 in Berdichev. His father was born in Poland, near Warsaw, and worked as a metalworker. His mother raised five sons. He studied in both a Yiddish school and in a cheder. During World War II, he served in the Red Army as the commander of a battalion of tanks. After he was demobilized in 1949, he returned to Berdychiv and was trained as an agronomist. He worked at a warehouse transfer station for kolkhozi and zovkhozi for thirty-five years.
---
Interviews:
"stuffing ourselves"
"when I encountered the Germans"
Career in the Red Army
The Zogerin (the Synagogue Prompter)