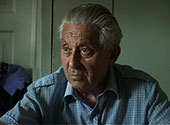 Arkadii Burshtein was born in Sobolivka in 1928. His father was a tailor. He attended a Yiddish school for four years, and then finished his education in a Ukrainian school. He survived in labor camps in the Reichkommissariat Ukraine before making his way into Transnistria. After the war he returned to Haysyn, where he worked as chief engineer in a garment factory.
---
Other Interviews:
Sobolivka Ancedote
Sobolivka
My Grandfather and the Priest
My Grandfather's Observance
Speaking Yiddish
The Mass Grave in Sobolivka
Arkadii's Gefilte Fish
"they wanted us to stay alive."
Haysyn, Ukraine
Arkadii Burshtein and his family were also not able to evacuate and were still in Sobolivka, about 20 kilometers from Teplyk, when the Germans arrived on July 28, 1941. As he explains in this clip, as soon as the Germans arrived they forced the Jews to work, scrubbing floors, digging potatoes, and sweeping the streets.
The Germans, though, were not there for long; they soon left the town in the hands of the local Ukrainian police. The local police continued to force the Jews to work in the fields, digging potatoes in the fall and clearing the railways of snow in the winter. Only now instead of laboring for a foreign invader, the Jews were laboring for their former neighbors. The hardships of labor and occupation were compounded by the indignity of being oppressed by one's own townsmen.
As the winter of 1941 began to thaw, the Germans initiated a new round of selections, taking able-bodied men to labor camps that were hastily established in the region. Most of the Jews from Teplyk district were taken to a camp in Raygorod, a town on the German side of the Southern Bug about midway between Nemyriv and Haysyn, where they worked on the Thoroughfare IV road project that would link Vinnytsya to Uman as a military supply route. The project was subcontracted to a private German firm, run by Dr. Fritz Todt, and therefore was commonly called Todt. Todt hoped to construct a massive supply line by turning small country roads into a major thoroughfare stretching over 2,000 kilometers from Lviv in the west to Taganrog in the east.
Burshtein was among the one hundred Jews selected for labor from Sobolivka in April 1942, and taken to Raygorod. Those Jews who were not taken for labor in the towns of the Reichskommissariat Ukraine were usually shot in one of the Aktions—or "pogroms" as the locals still call them—that the Germans perpetrated in the spring of 1942. The rest of Burshtein's family remained in Sobolivka, and were among the three hundred victims of the May 27, 1942 shooting there. Burshtein subsequently survived another massacre, in June, in which some six hundred Jews from the region were murdered. Burshtein was likely left alive because he could speak some German from his school days. He was taken to work in a foundry. Source: Jeffrey Veidlinger, In the Shadow of the Shtetl: Small-Town Jewish Life in Soviet Ukraine (Indiana University Press, 2013)