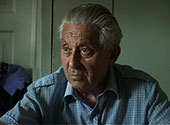 Arkadii Burshtein was born in Sobolivka in 1928. His father was a tailor. He attended a Yiddish school for four years, and then finished his education in a Ukrainian school. He survived in labor camps in the Reichkommissariat Ukraine before making his way into Transnistria. After the war he returned to Haysyn, where he worked as chief engineer in a garment factory.
---
Other Interviews:
Sobolivka Ancedote
Sobolivka
My Grandfather and the Priest
My Grandfather's Observance
"they wanted us to stay alive."
Speaking Yiddish
Arkadii's Gefilte Fish
The Mass Grave in Sobolivka
Haysyn, Ukraine
Arkadii Burshtein's entire family was mas murdered by the Germans in a May 27, 1942 massacre in Sobolivka that left about three hundred and seventy Jews dead.
In this clip, Burshtein explains that he visits the site of the mass grave in the forest every year with his family.