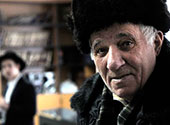 Veniamin Geller was born in 1923 in Pyatka. He has three siblings. Binyomin's father, Yankl, was born in Khazhin, four kilometers from Berdychiv, and his mother in Velyka P'yatyhirka. Geller's father worked in a sugar factory in Gorobtsy and later was a glass-maker in a factory until 1932. When the Great Hunger broke out in 1932, the factory was closed down and Yankl looked for work in Dnipropetrovs'k. However, he fell ill and had to return home in 1934, where he passed away shortly after. Binyomin studied at a Ukrainian school because the Yiddish school was closed in 1930. Geller's family moved to Zhytomyr in 1936. When the war broke out, the family was evacuated to Kazan before the Germans entered Zhytomyr. Geller was drafted in March 1942. He served in the Red Army for four years and was injured three times. He returned to Zhytomyr after the war and got married in 1949.
---
Other Interviews:
the Great Famine Exodus
Throwing Stones on Kol Nidre
a New Life
Zhytomyr, Ukraine
Veniamin Geller remembers in this clip the early beginnings of a new life at the end of World War II. When fighting at the front, Veniamin was injured from a German grenade and almost lost his legs. He recovered at a hospital in Moscow from October 1944 through March 1945 and then returned to Zhytomyr, only to find that gentiles had occupied his home in his absence. With so many Jews murdered and absent from the town, gentile neighbors often assumed that the seemingly abandoned homes were free for the taking. Veniamin managed to reclaim his home, married a Jewish woman in 1949, and settled down to make a new life for himself. His repeated reference to making "a new life" echoes the rhetoric of the time, and signifies the complete rupture that the war represented to so many people.