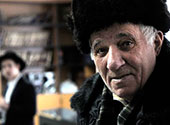 Veniamin Geller was born in 1923 in Pyatka. He has three siblings. Binyomin's father, Yankl, was born in Khazhin, four kilometers from Berdychiv, and his mother in Velyka P'yatyhirka. Geller's father worked in a sugar factory in Gorobtsy and later was a glass-maker in a factory until 1932. When the Great Hunger broke out in 1932, the factory was closed down and Yankl looked for work in Dnipropetrovs'k. However, he fell ill and had to return home in 1934, where he passed away shortly after. Binyomin studied at a Ukrainian school because the Yiddish school was closed in 1930. Geller's family moved to Zhytomyr in 1936. When the war broke out, the family was evacuated to Kazan before the Germans entered Zhytomyr. Geller was drafted in March 1942. He served in the Red Army for four years and was injured three times. He returned to Zhytomyr after the war and got married in 1949.
---
Other Interviews:
the Great Famine Exodus
a New Life
Throwing Stones on Kol Nidre
Zhytomyr, Ukraine
Veniamin Geller remembers in this clip two episodes from his childhood during the height of the Stalinist anti-religious campaign. In the first episode, he remembers how the prayer house was turned into a carpenter workshop, and one of the assistants mistakenly set it on fire.
In the second episode, he describes how the head of the Ukrainian school, who was himself a Jew, took the children who were members of the Young Communist League (Pioneers) to the synagogue on Yom Kippur in order to throw stones at the faithful on their way to prayer. Teaching children to harass their elders was a common form of Soviet indoctrination and intimidation.