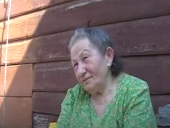 Raisa Turovskaia was educated at a Yiddish school for four years and later graduated from a Ukrainian school. During the war, she evacuated to a kolkhoz in the Shekhmanskii region. She and her family evacuated further to Siberia. She moved to Ovruch in 1944 and worked as History teacher later on.
---
Other Interviews:
Seeking Help From the Valedniker Rebbe
Openhanded
Childhood Memories
Avoiding Conscription
Ovruch, Ukraine
Raisa Turovskaia shares more miracle stories about the Valedniker Rebbe and reveals the tsadik's wisdom. In the first clip, Raisa describes how a violent son wanted to avoid conscription into the Imperial Russian Army. He therefore sought the rebbe's help together with his mother.

Tsar Nicholas I issued the Statute on Conscription Duty on August 26, 1827. Accordingly, all Russian males between the ages twelve and twenty-five were required to serve in the Russian Imperialist Army for twenty-five years. This decree naturally included the Jewish population. As a result, many Jewish families emigrated from the Russian Empire to avoid military service for their sons.

In the following clip, Raisa explains the desperate situation of a divorced woman, whose husband went off to Siberia and remarried a non-Jewish woman. She lived in poverty and was under great distress to organize weddings for her four daughters. After the woman sought help from the Valedniker Rebbe, everything worked out for the good.